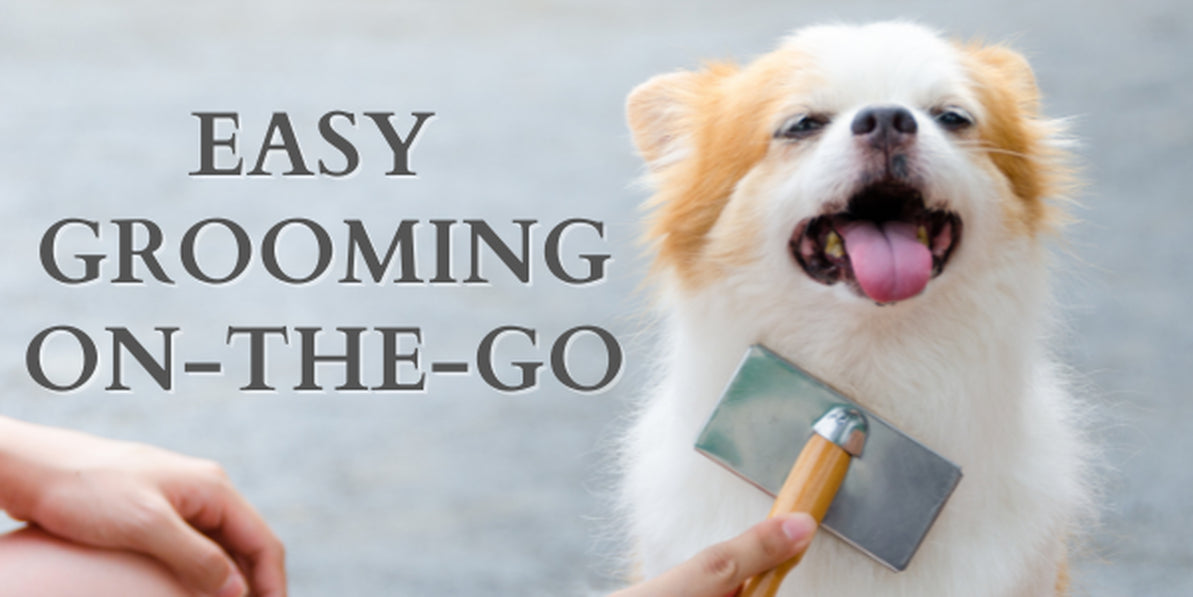 Summertime is all fun and games until your pup gets dirty while you are on the run. When you'd rather be out enjoying the season than staying in to groom your companion, check out these great products to help keep summer stress free:
Did you know that there are effective no-rinse shampoos made for pets? Chris Christensen Show Off No Rinse Shampoo is perfect for freshening up your pet's coat between full grooms, and wonderful to have on hand if your pup rolls in something it shouldn't, or even to clean dirty paws. Just spray it on, work it through the coat, towel, brush, and go!
Sometimes summer brings some less than pleasant scents for pets to roll in. A spritz of this long-lasting deodorizing spray can save the day.
Your pet's leash and collar sometimes get dragged through the mud… literally! Consider switching your regular gear for the great collars and leads from Jelly Pet for damp and dirty summer events. Lightweight, attractive, pleasant to touch, and a breeze to clean, these products resist odors like none other!
Warm weather can bring allergies, itching, and even irritated paws from unaccustomed outdoor activity. iGroom Pet Skin Rescue is soothing for noses, paw pads, and any irritated skin areas. It moisturizes and protects the skin and is perfectly safe to use, even if your pet licks it.
If your pet is experiencing seasonal shedding this summer, Natures Specialties Ez Shed conditioner will help smooth the way to ease that flying fur out of the coat.
A high-quality slicker brush is a must to keep many coat types under control. You will love using Chris Christesen's Big G Slicker. The comfortable handle and long, sturdy bristles make summer grooming a breeze.
If fleas and ticks are a problem where you live, Cherrybrook carries various products to prevent external parasites. It's a great idea to keep a flea comb on hand. Even the best parasite prevention can't keep every bug off, and the Aaronco flea grabber comb works a treat for catching errant pests. The T-shaped handle means it is comfortable to use, and the narrowly spaced teeth grab fleas so you can remove and dispose of them. Flea combs are also dandy if you need to comb the delicate areas in the corners of your dog's eyes.
One downside to summer in many areas is the presence of skunks. If your pet has a run-in with one of these odiferous creatures, you will be glad to have Natures Specialties Odor Terminator on hand. Special enzymes work to break down odors.
Want to keep your summer grooming gear in a great go-bag, so it's handy for your outings? Check out this backpack from Blackworks. Stylish and designed for active pet owners to stash their gear.
With the right tools on hand you can quickly and easily tackle any grooming challenges the season brings, while spending more time enjoying the great outdoors.