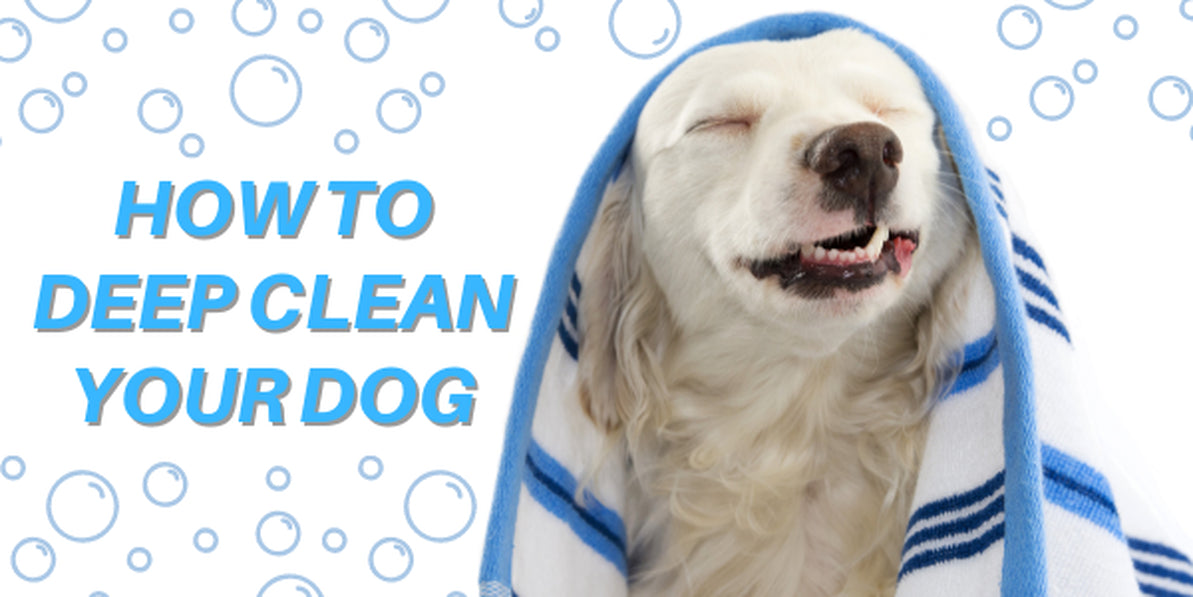 It's spring and time to dust off the winter blues with a spring clean routine to help get your pet's coat ready for fun in the sun.
Start with a good old-fashioned bath. This will remove winter grime, and a warm bath will also help loosen up seasonally shedding fur. Here is a great pro tip, use a new kitchen sponge to scrub your pet. After getting the dog's coat wet, apply shampoo to a damp sponge and then rub the product-coated sponge onto the dog. This will help distribute the shampoo more evenly, add some additional scrubbing power, and the sponge gets into tricky areas like under legs, between toes, and beneath low bellies. For white or light colored dogs, try a whitening shampoo like Natures Specialties Aloe Bluing Shampoo with Optical Brighteners.
If your pet feels extra gritty and grimy from winter walks, iGroom's Squeaky Clean will solve that problem. For most pets, you will want to wash, rinse, and repeat any shampoo to ensure the job is well done. For help with spring shedding, try https://www.cherrybrook.com/natures-specialties-ez-out-deshedding-shampoo-for-dogs-cats/. The ingredients in deshedding products add extra slip to help dead hair be removed with ease.
If you find your pet has springtime itchy skin, iGroom's prebiotic shampoo will help soothe the scratch.
What about washing around your pet's face? There are special facial washes designed to be gentle on the eyes while effectively cleaning this sensitive area.
No matter which shampoo you choose for your pet, be sure to rinse, rinse and rinse again. Shampoo left in the coat can attract dirt and even irritate the skin.
After the bath, it is essential to use a conditioner to replace the natural oils the shampoo removed. Conditioners will make brushing and combing easier and assist in removing shedding fur as well.
Rinse your sponge well and use it to apply the conditioner to the coat. Work the product through from skin to hair tips, then rinse. When you are done, pat (don't rub) your pet dry with a thirsty towel. To keep your pet sponge at the ready, fasten it to your shampoo or conditioner bottle with a rubber band after rinsing it out. You will never doubt which sponge is for dishes and which is for Rover.
After the bath, while your dog is still in the tub, is an excellent time to clean your dog's ears. Squeeze a small amount of cleaner into each ear. Massage the base of the ear to distribute the cleaner into the ear canal. The sensation of the cleaner will make your dog shake vigorously, which is best done while still in
the confines of the bathing area. Any debris flushed from the ears can be gently wiped away with a towel or a cotton ball.
Did you know that many dogs accept having their nails trimmed more easily if done while they are in the bathtub? It may be because of the smooth surface of the tub or that they feel a little subdued because they are wet, but many groomers find that performing nail trims this way is a more peaceful experience. A professional quality trimmer like Blackworks Nail Clipper will get the job done neatly.
Once your dog is clean and conditioned, it is time for brushing and combing. For smooth-coated dogs, a tool like Blackworks Deshedding Massage Brush will not only be the bomb for removing loose fur, but your dog will also enjoy the massaging action.
Longer coated pets will benefit from a spritz of conditioning spray such as iGroom's Magic Detangler Conditioning Spray. Mist each area as you begin to brush. For most longer coats, a quality slicker brush like Chris Christensen's Big G will work beautifully to smooth tangles and remove shedding fur.
Follow up your brush with a comb, working from the skin out. If the comb will not move smoothly through the fur, add more detangling spray, and go over the area again with the slicker brush. Repeat until you can easily comb every area of the pet.
You may find that your dog has a little extra "spring" in its step after a nose to toes seasonal spiff-up.